ICC / WIN & Turkish Coffee Night
ICC & WIN First Annual Meeting & 8th Annual Summit
On the morning of Saturday, March 28th, we attended the First Annual Meeting and 8th Annual Summit of the recently joined International Community Council (ICC) and Worldwide Intercultural Network (WIN) which was held in the Rammelkamp Atrium at MetroHealth in Cleveland and attended by about 50 people (photo courtesy of Dan Hanson / ClevelandPeople.com).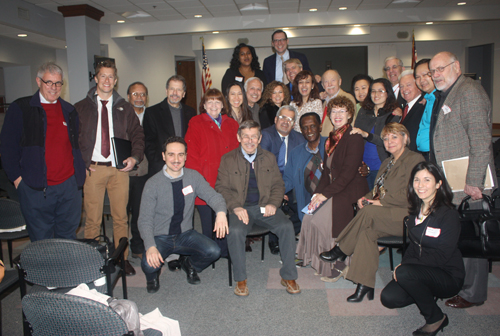 This program was presented in partnership with the American Nationalities Movement and Clevelandpeople.com and representatives were there from both organizations including Ms. Irene Morrow, Judge Ralph (Rocky) Perk, Jr. and Mr. Dan Hanson and Ms. Debbie Hanson. Mr. Hanson said that he wanted to recognize the "elders" here today such as Ms. Morrow, Judge Perk, and Mr. August Pust because he always learns so much from them (as we all do).
Our good friend Mr. Ken Kovach, President of ICC-WIN, talked about the history off both organizations and how it was to their advantage to merge as they did a year ago. Mr. Kovach said that he believed that it was now the largest group with the most diverse leadership in Northeast Ohio. He recalled the event that Ms. Wong attended last fall that took place in the Global Center for Health Innovation where 500 people from 82 countries came together for the evening. He also noted that 2016 is going be a big year for Cleveland due to the RNC coming here and that it will be the 100th anniversary of the Cleveland Cultural Gardens.
Mr. Kovach introduced a special presentation titled "Serving the International Community through Arts in Medicine-MetroHealth System's Multi-Cultural Competence" in which Ms. Linda Jackson, Director of Arts in Medicine at MetroHealth, and Ms. Carol Shively-Mizes, Activity Coordinator and Music Therapist, talked about this new multicultural program that will integrate the creative and therapeutic arts into the healthcare experience of the patient, family, caregiver and greater community. It will draw upon the resources of such entities as the Inlet Dance Theatre, the Cleveland Ballet and the Dancing Wheels Company.
Next Ms. Mari Galindo-DaSilva said a few words about the new Language Services Center at MetroHealth which will have its official opening in April, 2015. Ms. Galindo-DaSilva said that the new Center will be a model for the rest of the country and has the potential to greatly assist immigrants and refugees in the Cleveland/Northeast Ohio area.
Mr. Dick Russ, Former TV-3 News Director and ICC President, was the final speaker and he talked about what to expect from the upcoming RNC in 2016 and the possibilities for Cleveland to showcase its multicultural diversity while it is taking place. As a journalist himself, Mr. Russ told us that the media will start to arrive in Cleveland about a week before the convention will actually start and they will be looking for things about Cleveland to report on. Mr. Russ believes that we should present ourselves as the "coolest international city in the United States" because not too many cities can say that they have 125 different ethnic groups most of which retain their cultural identity. This should be done in a way that is both "first class and authentic."
After Mr. Russ finished, the attendees divided themselves into three groups and went to separate rooms to explore such issues as how to take advantage of the RNC; what can be done to improve global business; what can be done to better connect the various cultural, ethnic, and racial groups of Cleveland; and what can be done to be done to better understand the histories, key contributions, and resources of our diverse populace. The people in our group included ICC-WIN Board of Trustee Members Mr. Richard Eastburn, Ms. Dawn Ellis, Ms. Lisa Wong, Mr. Harry Weller, and Mr. Russ. Additional people we worked with were Cleveland City Councilman Brian Cummins, Mr. Jim Craciun, Mr. Carl Robson, Mr. David Jakupca, Dr. Laura Fruscella, and Ms. Cathy Vue. We talked for about 40 minutes and then made a list of our ideas. Then all three groups reported back to the main gathering room and shared their ideas.
The suggestions that our group made included:
During the RNC, establish a rotating International Village that would possibly make use of places such as CDC's, churches, and the cultural gardens.
Emphasize the positive contribution that immigrants can make towards enhancing the economic environment.
Better information to people as to how immigrants can be helpful to Cleveland/Northeast Ohio as a whole.
Young people must be encouraged to take part in the RNC; possibly as airport greeters.
The 5,000 volunteers that will be needed for the RNC must reflect Cleveland's international community.
Use social media more effectively to emphasize the accomplishments of Cleveland's international community.
Create an app to highlight cultural events during the RNC.
Find ways that the international media can work with Cleveland's local ethnic media during the RNC.
During the RNC, take delegates, news media, etc. on a tour of Thomas Jefferson High School to emphasize Cleveland's commitment to diversity.
Create a safe place in Cleveland for its international community to come and hang out together like a piazza.
Other groups had good ideas also and those included:
The creation of an international job pool data base.
Find a way to better coordinate the activities of students, educational institutions and businesses.
Pay more attention to what is going on in the ethnic communities outside of Cleveland in places like Lorain, for example.
Do more with International Children's Day just like they do in Turkey.
Take advantage of the opportunity to bring different peoples together.
Promote/create more cross cultural events that families can take part in.
If there was an overriding issue that all of the groups and all of the people there on this day could agree it was that ICC-WIN, Global Cleveland, Cleveland Council on World Affairs, and Clevelandpeople.com need to be sure that their efforts must be closely coordinated to maximize the potential of their effectiveness.
Along these lines, we liked what Mr. Richard Eastburn said to us when we first arrived which was that it is more and more important that everyone concerned about these issues has access to each other in order to avoid a patchwork approach; we need to come together to address our differences and similarities because if we do not there will be no solutions.
Turkish Coffee Night
Once again, it was the time of the month for Turkish Coffee Night at the Turkish Cultural Center in Lakewood which is one of our most favorite monthly events because, as we have said before, the presentations are short but very informative about interesting topics pertaining to Turkey and the dinner is scrumptious.
Tonight Ms. Seyma Gurer talked about "Turkish Wedding Customs" which, as one can imagine, are quite a bit different than they are in the United States. The point that stands out the most for us is that in the United States, two people marry each other but in Turkey a person seems to be marrying the other person and his/her family which plays a large role every step of the way in the marriage process although there are no forced marriages; the families might try to bring two people together but it is ultimately their decision.
To be sure, the process of getting married according to Turkish custom involves a several parties/celebrations along the way and these are, for the most part, paid for by the groom's family. Recently, a friend of ours got married in the United States and we were shocked to learn that 200 people were invited. Yet this is a small number compared to a Turkish wedding in which 500 people often show up. In lieu of wedding presents, the newlywed couple receives small gifts of gold.
Ms. Gurat's fine presentation was received with humor and astonishment because we couldn't help but compare Turkish wedding customs to our own personal experiences. It was particularly enjoyed by a friend of ours who is currently planning her own daughter's wedding. We were fortunate to have at our table Ms. Semi Albulbts who was married in Turkey before she immigrated to the United States. She went into more detail about the process and picked up where Ms. Gurat left off. We learned that years ago she worked with Ms. Margaret W. Wong on some immigration issues and now follows her on twitter.
At this event we also met Dr. Mary Hilaire Tavenner, noted author and educator from Lorain. Dr. Tavenner now spends a lot of time working with Lorain's Adult Basic and Literacy Education (ABLE) program which helps individuals who need assistance acquiring the skills to be successful in post-secondary education, training and employment. Dr. Tavenner has worked with a lot of immigrants including people from Egypt, China, Hungary, Puerto Rico, Turkey, China, Philippines, and Mexico. She really respects the work that Margaret W. Wong and Associates does.
What was especially funny about tonight's program is that many of the same people who were there were also at the ICC-WIN program earlier in the day like Ms. Debbie Hanson, Mr. Pierre Bejjani, Mr. Murat Gurer, Ms. Laura Fruscella, Mr. Joe Meissner, Ms. Gia Hoa Ryan, Dr. Asim Datta, Ms. Mari Galindo-DaSilva, and Ms. Nada Martinovic. We kidded each other by saying that we hadn't seen each other for a while when it had only been six hours!